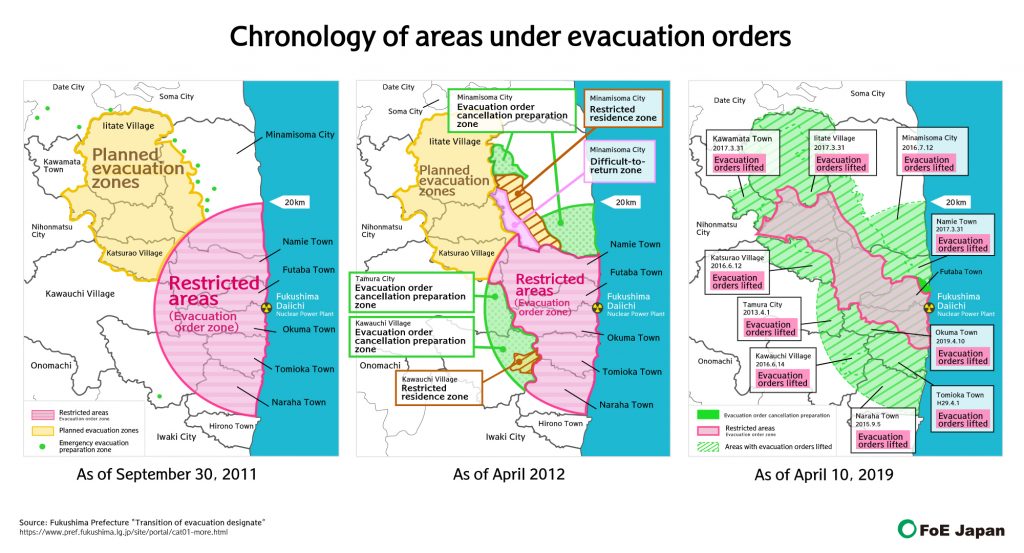 Thousands of people had to evacuate due to the nuclear accident.
Immediately after the accident at TEPCO's Fukushima Daiichi nuclear power plant, the government expanded evacuation orders in concentric circles, and on the evening of March 12, 2011, the day after the accident, the government issued evacuation orders to areas within a 20 km radius of the plant.
On April 22, the government designated "planned evacuation zones" such as Iitate, where the annual cumulative radiation dose was expected to reach 20 millisieverts.
In June and December of the same year, the government designated "specific sites recommended for evacuation" (Emergency evacuation preparation zones) on a household by household basis in places including Ryozen-machi, Date City, and Haramachi Ward in Minamisoma City.
But 20 mSv per year was 20 times higher than the international recommendation that public exposure be limited to 1 mSv per year, and was much higher than in radiation control areas (about 5 mSv per year) where only trained professionals can enter. Therefore, there was strong criticism from citizens.
Evacuation areas were lifted one after another starting in 2014.
The government has three criteria for lifting evacuation orders: (1) certainty that the annual cumulative dose will be less than 20 millisieverts, (2) infrastructure for living has been restored, and (3) adequate consultation among the prefecture, municipalities, and residents.
However it has not been the case that "sufficient consultation" with residents has been conducted.
Regarding the difficult to return zone, parts of Futaba Town, Okuma Town, and Tomioka Town remain restricted to enter even now. On March 4, 2020, the evacuation orders for difficult to return zones were lifted around Futaba Station (Futaba-cho) on the Joban Line, on March 5th around Ono Station (Okuma-machi), and on March 10th, around Yonomori Station (Tomioka-cho).
> Learn More (Link will be inserted)
Sources:
Fukushima Prefecture: https://www.pref.fukushima.lg.jp/site/portal-english/en03-08.html
Ministry of Economy, Trade and Industry: https://www.meti.go.jp/earthquake/nuclear/hinan_history.html (in Japanese)