It has been 9 years since the Fukushima Daiichi Nuclear Power Plant accident. People who are still suffering from the pain, suffering, and the loss caused by the accident are trying to stand up.
Here, we will introduce the voices of Kenichi Hasegawa, a former dairy farmer who returned to Iitate Village, Seiji Sugeno, an organic farmer in Nihonmatsu City, Mizue Kanno, who evacuated from Namie Town to Kansai, and the mother of Fukushima, who once evacuated and returned, in a digest. The interview (About 10 minutes of video) is scheduled to be released on the FoE Japan website.
1. Hasegawa Kenichi (Villagers of Iitate)
2. Seiji Sugeno (Living in Nihonmatsu, an organic farmer)
3. Mizue Kanno (Evacuated from Namie Town to Kansai)
4. Mother living in Fukushima
Seiji Sugeno (Organic farmer in Nihonmatsu)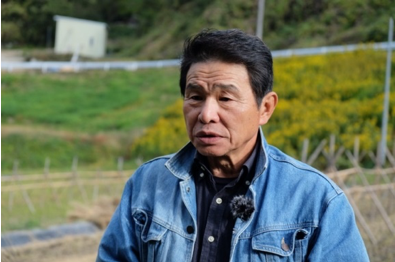 The former Towa town (a town that was amalgamated into Nihonmatsu City) in Fukushima Prefecture is a hilly forested region with a population of 65,500. It is located about 48 kilometers from Fukushima Daiichi nuclear power plant. For more than 30 years, we have been doing direct sales and the personalized business of organic agriculture, working with groups such as a citizens cooperative in Chiba, consumer groups in Tokyo, and a school lunch program at Jiyunomori Gakuen high school in Hanno, Saitama. The local organic farmers increased while expanding direct sales to customers. Through the program delivering rice and vegetables for school lunches at Jiyunomori Gakuen, we accepted 18 high school students to give them farm experience over the 12 years prior to the nuclear accident. They worked hard to harvest potatoes and tomatoes. They had polished fingernails and listened to their music, but fully enjoyed putting on an old lady's sandals to do farm work, were enthralled to see dragonflies and frogs, and to learn the goodness of country life.
March 11
During the earthquake on March 11, the storehouse behind my house collapsed, so I converted it to a guest house afterwards. On March 15, the Towa area was set up to accept 1,500 and Nihonmatsu 3,000 people in total who were forced to evacuate here for two or three weeks, and we were overwhelmed with assisting them. I never imagined that our area would be affected by the nuclear accident, so I was really surprised when the impacts hit us too. I was instructed to stop shipping my produce around March 20. Our spring spinach and various vegetables were ready to ship out, but everything had to stop. That was the most difficult. It was late March. We were told not to plow the land. To refrain from farm production. We were told to wear masks. There was no gasoline available. Nothing was certain, but we decided to prepare seed rice anyway. To be ready to go ahead at any moment. So I soaked rice seeds in water.
The soil radiation contamination in the Nihonmatsu-Towa area was below 5,000 becquerels, so it was on April 12 that we were told that we could plow the land. We were told that ten Geiger counters would be donated to community groups at roadside stations, so we started taking our own radiation measurements in the middle of April. Upon hearing that, academics from Niigata University, Ibaraki University, Tokyo University of Agriculture and Technology, and Fukushima University who were part of the Japanese Society of Organic Agricultural Science undertook comprehensive measurements of not only the village forests, the soil and agricultural products, but also water. Levels were at 2,000 to 3,000 becquerels (in soil), but that does not migrate to crops. Radishes were at 17 becquerels, and tomatoes were "ND" (below the detection limit). We began to see that things were going to be all right. We monitor [radiation levels] while we grow. We grow while we monitor.
However, sales at roadside stations have dropped, our involvement in the school lunch program was halted, cooperatives refuse to buy from us, and health-conscious customers stay away. Sales have had a huge drop to only about 40% of what they were before the earthquake. Customers who were buying my rice and the supply for school lunches at Jiyunomori Gakuen—all this has stopped.
We were most worried about the farmers being exposed, especially young organic farmers in their forties and thirties. They kept radiation monitors on for a full week while they did their farm work. With all of that data, we have been working on individual actions and precautionary health measures.
Transforming our dependency on electricity and oil
After the nuclear accident, I realized we had to change our lives that had been so dependent on electricity and oil. I converted the tractor run on tempura vegetable oil. I put solar panels on the roof, and use a wood stove in the guest house. I became intensely aware that life could not just be an extension of what it was before March 11. I decided to start where I could with renewable
energy. Also, we need to communicate the role and value of agriculture. We need to tell people not only that the rice has been inspected or is organic. We also need to talk about the value of protecting agriculture and its biodiversity in local ecosystems. We have started our efforts to communicate about the big picture of our satoyama farming ecosystems.
Nuclear power took away our community and our human rights
We citizens of Fukushima need to communicate more to the world. What happened here must never happen again. Our mountains, rivers, and soil are contaminated. Producers and consumers have been torn apart. Even the dining table between grandchildren and their grandparents has been torn apart. Close communities have been torn apart. No more nuclear plants should be built to take our lives away. They should not be restarted.
Evacuees from Namie town were in tears when they told us their stories. They said they would not be able to go back, nuclear power has stolen their community.
We need to switch to renewables. We need to change our lives. Unless we create these messages and policies, the lessons of this nuclear accident will never be learned. The Tokyo Olympics are ridiculous.
Can a sustainable lifestyle be possible in cities of mass production and mass consumption? We have to realize a lesson of March 11 from the failure to control the pattern of concentrating everything in cities and destroying the countryside, and pushing U.S. bases and nuclear plants and even garbage out into the countryside.
During the war, farmers from the Tohoku region were rushed to the battlefields as soldiers, and after the war the region was deprived of labor during Japan's period of high economic growth to provide migrant workers to construct buildings, highways, and bullet train lines. Food for the Tokyo metropolitan area also comes from the Tohoku region. Electricity also came from Fukushima. I think an awareness of this urban/rural structure is one lesson from March 11. It's time to break away from the race of economic growth toward the Tokyo Olympics. We need to shift to a simpler, more human life.