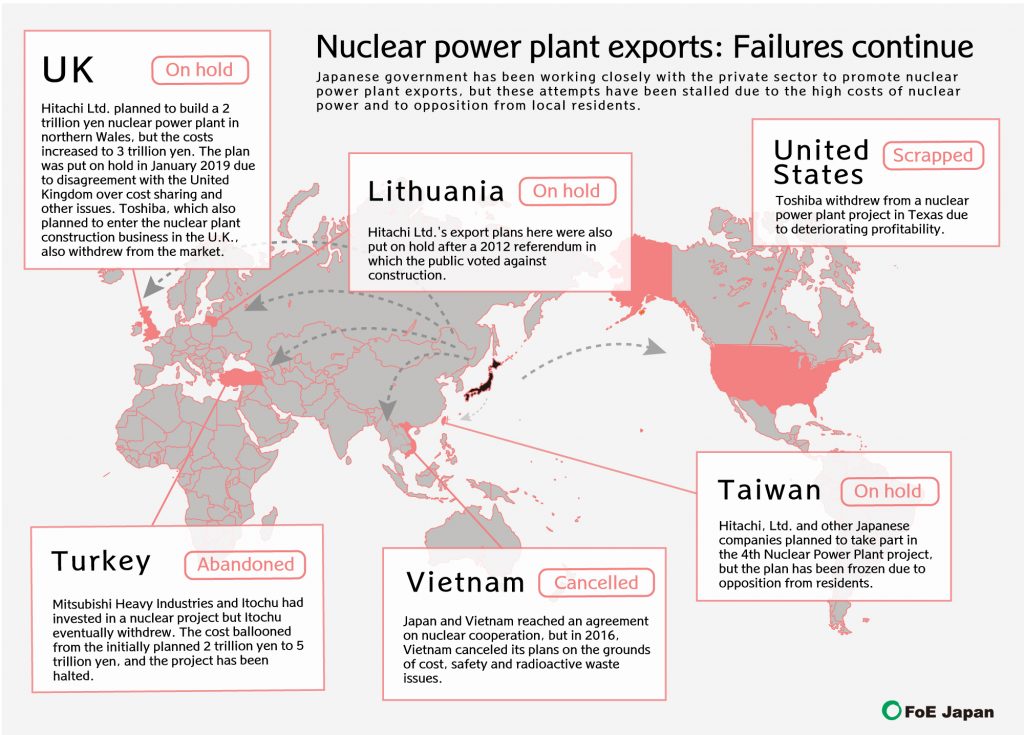 The Japanese government and industry have been trying to export nuclear power, but failures mount.
Japanese government has been working closely with the private sector to promote nuclear power plant exports, but these attempts have been stalled due to the high costs of nuclear power and to opposition from local residents.
UK: Hitachi Ltd. planned to build a 2 trillion yen nuclear power plant in northern Wales, but the costs increased to 3 trillion yen. The plan was put on hold in January 2019 due to disagreement with the United Kingdom over cost sharing and other issues. Toshiba, which also planned to enter the nuclear plant construction business in the U.K., also withdrew from the market.
Lithuania: Hitachi Ltd.'s export plans here were also put on hold after a 2012 referendum in which the public voted against construction.
Vietnam: Japan and Vietnam reached an agreement on nuclear cooperation, but in 2016, Vietnam canceled its plans on the grounds of cost, safety and radioactive waste issues.
Turkey: Mitsubishi Heavy Industries and Itochu had invested in a nuclear project but Itochu eventually withdrew. The cost ballooned from the initially planned 2 trillion yen to 5 trillion yen, and the project has been halted.
U.S.: Toshiba withdrew from a nuclear power plant project in Texas due to deteriorating profitability.
Taiwan: Hitachi, Ltd. and other Japanese companies planned to take part in the 4th Nuclear Power Plant project, but the plan has been frozen due to opposition from residents.
> Learn more (Link will be inserted)